Noninvasive Prenatal Testing (NIPT)


Why Get Tested? Diagnosis for pregnant women, to assess the risk of developing baby (fetus) having certain genetic (chromosome) abnormalities.
Also known as:
NIPT test, Cell-Free DNA (cfDNA) screening
Description:
Non-Invasive Prenatal Testing (NIPT) also known as cell-free DNA (cfDNA) screening is a method of determining the risk that the fetus will be born with certain genetic abnormalities.
NIPT or cfDNA screening is much better at detecting Down syndrome and all other chromosomal aneuploidies than conventional prenatal screening (e.g. Integrated Prenatal Screening, First Trimester Screening). This test employs a non-invasive and low-risk method for the acquisition of a fetal DNA sample. Upon collection of 10mL of maternal blood, cell-free fetal DNA can be extracted for subsequent Next Generation Sequencing. Chromosome aneuploidy can then be detected using bioinformatics analyses, where the detection rate and sensitivity are over 99%.
Non-Invasive Prenatal Testing (NIPT) has a lower false positive rate than conventional prenatal screening. Higher detection and lower false positive rate mean that fewer people will need to have follow-up invasive testing which is associated with a small risk of pregnancy loss.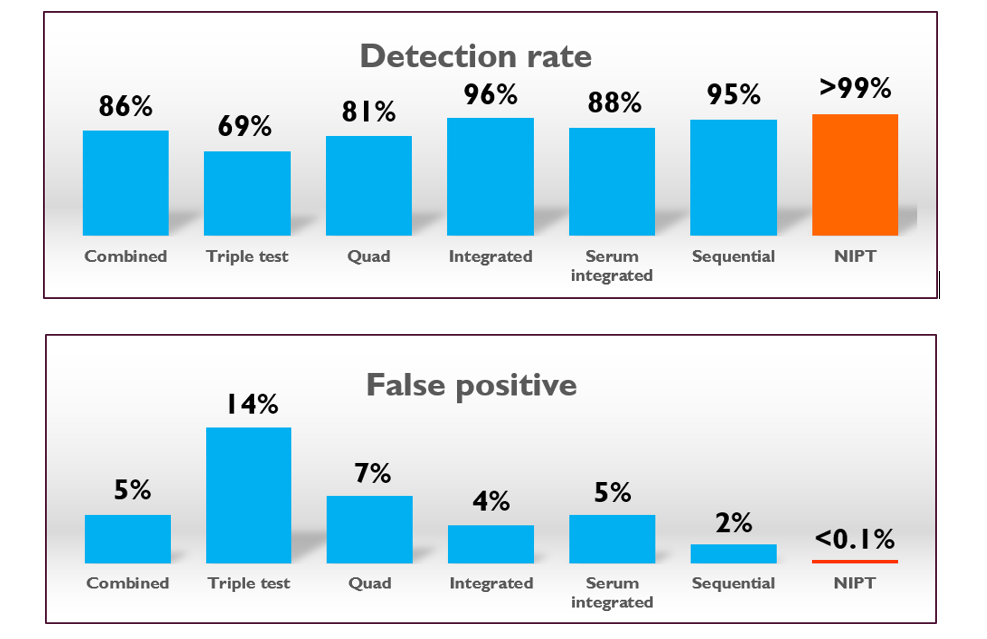 The American College of Obstetricians and Gynecologists has recommended that women; regardless of maternal age should be offered prenatal assessment for aneuploidy. However, women aged 30 years or older are at risk of having baby with chromosomal abnormalities.
NIPT is a screening test and all high-risk results should be confirmed through further investigation which may include tests such as amniocentesis or Chorionic Villus Sampling (CVS). Pregnant women with a high-risk result should be referred for genetic counseling and offered invasive prenatal diagnosis for confirmation of test results.
DNA Solution Ltd, the first molecular diagnostics lab in Bangladesh introduces Non-Invasive Prenatal Testing (NIPT) for the very first time; using worlds latest technology Next Generation Sequencing (NGS, Ion GeneStudio S5 – USA) platform.
Reasons for Referral:
When patient at 10th week of pregnancy.
Advanced maternal age, 30 years or older during gestation.
Fetal ultrasonographic findings indicating increased risk of aneuploidy.
History of prior pregnancy with aneuploidy.
Positive test result for aneuploidy during first trimester, integrated screening and quadruple screening.
Sample Requirement:
8 ml maternal blood to be collected in Streck tube
Test Preparation
During or after the 10th week of pregnancy
Test Done by
Ion GeneStudio S5, Next Generation Sequencing Machine (NGS)